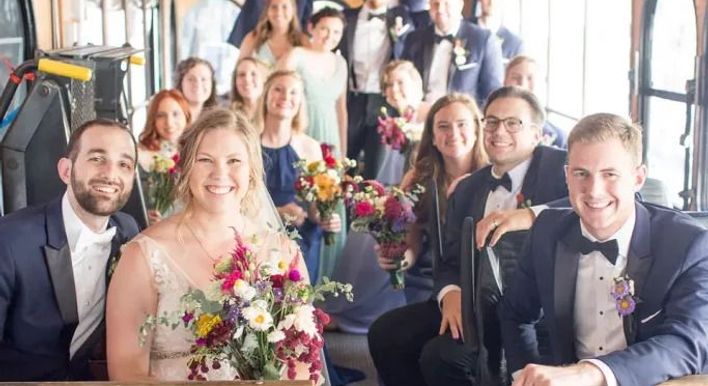 Private weddings trolley tours can be a unique and special way to celebrate your wedding day. Here are some reasons why you may want to consider a trolley tour for your wedding:
• Convenient transportation: Trolleys offer a convenient way to transport your wedding party and guests to different locations, without the hassle of driving or navigating unfamiliar streets.
• Unique experience: A trolley tour can provide a unique and memorable experience for your wedding guests, and is a great way to show off the city or local area to out-of-towners.
• Photo opportunities: Trolleys can provide a beautiful backdrop for your wedding photos, and offer a chance to capture memorable moments from your special day.
• Customizable tours: Trolley tours can be customized to suit the specific needs and interests of your wedding party, ensuring that everyone has a fun and enjoyable experience.
• Professional driver: Our professional drivers are knowledgeable and experienced, providing a safe and reliable way to transport you and your guests.
Overall, a private wedding trolley tour can be a fun and unique way to celebrate your special day, providing a convenient and memorable way to transport you and your guests. We love weddings and we love to be apart of your special day. Founding Footsteps would love the opportunity to provide transportation for your loved ones to your special occasion.
We are currently placing packages together now for 2023. If you are interested in learning more, please email us at weddings@foundingfootsteps.com.